Saturday Night Live's online presence in Canada (or anywhere outside the US) is what's wrong with the mindset at large media corporations. We want to watch your show! Stop geo-blocking it!
Chances are, if you try to watch the latest weekend update clip online via Youtube or Hulu, you're going to get a message telling you that it is not available in your country. As a Canadian cord cutter this is pretty infuriating. But there is an easy way around it. It will unlock all of those pesky geo-blocked clips as well as give you access to Hulu, where you can stream full episodes of SNL for free.
How to watch SNL online in Canada
The key to this technique is what is called a DNS masker. This service will allow you to look as though you are accessing content from within the US. And this applies not just to SNL, but many US only services like Pandora and Hulu.
The service that I know and trust (since I have used it for over 4 years) is UnblockUs. It is dead simple to setup and tutorials are available for most devices. You can even set it up at your router so all of the devices on your local network are DNS masked. In Canada it is pretty cheap at $4.99 a month. This gets you the above mentioned Hulu, SNL clips as well as unlocked Netflix regions (they just recently added Netflix Japan for those of you into anime).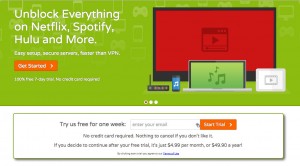 I highly recommend the service. You can start a free trial to make sure everything works fine as well. Let's not wait for Global TV and NBC to figure their stuff out. UnblockUs is your solution.
Start your free trial on UnblockUs
Disclaimer: I do get a small commission for everyone that signs up to UnblockUs from the above links at no cost to you. But I truly do support their service. I've never had a problem and they have great customer service, otherwise I wouldn't have stuck with them for 4 years.