Many people are on the fence about cord cutting. They aren't sure whether it will actually be worth it. Will they pay basically the same as when they had cable? We wanted to put these questions to the test, so we created this cord cutter calculator. Simply enter your cable bill currently, what an internet only bill would cost and then select your streaming services. In most cases it absolutely makes sense to cut the cord. But don't let me just tell you, try it for yourself.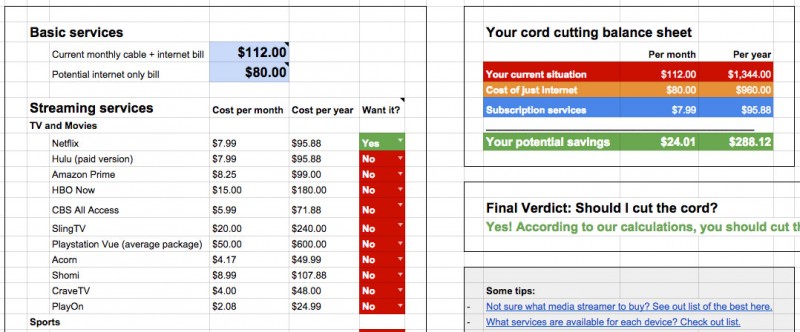 When you click below it will open up a Google Drive page. Simply click the "Use this template" button in the top left to get started. You'll probably want to use an actual PC for this as opposed to mobile.
The cord cutter calculator
Calculate your savings now
Please note that this calculator is meant for estimation purposes only. Prices of streaming packages may change regularly, and while I will try to keep this updated, I can't be sure everything is completely accurate.  Having said that, if you see any errors or want a service added to the tool, please email me.